| | |
| --- | --- |
| Country: | Indonesia |
| Long Name: | Republic of Indonesia |
| Abbreviations: | ID, IDN |
| Capital: | Jakarta |
| Time Zones: | 3 |
| Dial Code: | +62 |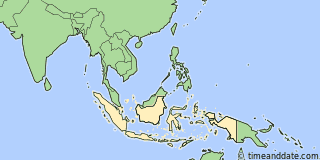 Time Zones Currently Being Used in Indonesia
Offset
Time Zone Abbreviation & Name
Example City
Current Time
UTC +7
WIB
Western Indonesian Time
Jakarta

Fri

,

12:47:03 pm

UTC +8
WITA
Central Indonesian Time
Makassar

Fri

,

1:47:03 pm

UTC +9
WIT
Eastern Indonesian Time
Manokwari

Fri

,

2:47:03 pm
Three Indonesia Time Zones
The Indonesian archipelago stretches from 94°45′E to 141°05′E longitude and spans three time zones from UTC+7 in the west, via a central UTC+8, to UTC+9 in the east.
Six thousand of Indonesia's more than 17,000 islands are inhabited. Western Indonesian Time (WIB), including the densely populated island of Java and the capital Jakarta, is the time zone that a majority of the population use. Central Indonesian Time (WITA) is used in the central region, including the holiday island of Bali. Eastern Indonesian Time (WIT) is used in the east, including West Papua on the Indonesian part of the island New Guinea.
Single Time Zone Considered in 2012
In 2012, Indonesian lawmakers considered merging the three time zones to UTC+8 (Central Indonesian Time). It would have lined up Indonesia's time zone with trading partners in other countries like China, Singapore, and Western Australia. The Indonesian government later postponed the measure.

Indonesia