| | |
| --- | --- |
| Country: | Nepal |
| Long Name: | Federal Democratic Republic of Nepal |
| Abbreviations: | NP, NPL |
| Capital: | Kathmandu |
| Time Zones: | 1 |
| Dial Code: | +977 |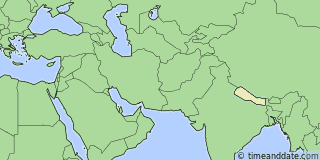 Time Zone Currently Being Used in Nepal
Offset
Time Zone Abbreviation & Name
Example City
Current Time
UTC +5:45
NPT
Nepal Time
Kathmandu

Tue

,

6:27:41 am
Nepal Time Zone
Nepal uses Nepal Time (NPT). Standard time is used all year, and the country has never used Daylight Saving Time (DST).
Unlike most countries, Nepal, with its UTC offset of +5:45, has a 45-minute offset instead of the usual full-hour offset: Clocks in Nepal are 5 hours and 45 minutes ahead of UTC. The time difference from its neighboring country, India, is only 15 minutes.
15 Minute Change
From 1920 through 1955, Nepal followed India's UTC offset of +5:30. However, when Indian Standard Time (IST) was introduced after India's independence in 1956, Nepal decided to change its clocks by 15 minutes to Nepal Time.
The time zone meridian was set to 86° east longitude—the mean solar time of the mountain Gauri Sankar, which is about 100 km (62 mi) from Nepal's capital Kathmandu.
Nepal observes Nepal Time all year. There are no Daylight Saving Time clock changes.

Nepal
Tuesday, September 26, 2023