Half Hour and 45-Minute Time Zones
While most time zones differ from Coordinated Universal Time (UTC) by a number of full hours, there are also a few time zones with both 30-minute and 45-minute offsets.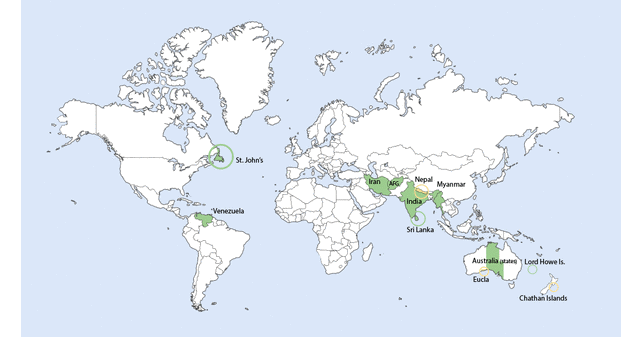 The local time in a time zone is defined by its difference from Coordinated Universal Time (UTC), the world's time standard.
Not Only Whole Hours
A country in the UTC+3 time zone is 3 hours ahead of UTC; in the UTC-8 time zone, clocks are 8 hours behind UTC.
However, some countries and territories use uneven UTC offsets that differ by 30 or 45 minutes from the usual one-hour time zone interval.
Daylight Saving Time
Regions that use Daylight Saving Time (DST) change the time zone during the DST period. The words "daylight" or "summer" are then usually included in the time zone name.
DST start 2023: Australia & New Zealand
The areas that don't use DST remain on their standard time all year.
India: UTC +5:30
Australian States:
Australia has multiple time zones. Some of them are half-hour and quarter-hour time zones. Not all states and territories use DST.
Northern Territory: UTC +9:30
Eucla: UTC +8:45
South Australia: UTC +9:30 / +10:30
Broken Hill: UTC +9:30 / +10:30
Lord Howe Island: UTC +10:30 / +11:00
Cocos (Keeling) Islands: UTC +06:30
New Zealand, Chatham Islands: UTC +12:45 / +13:45
Canada, Newfoundland: UTC -3:30 / -2:30
Sri Lanka: UTC +5:30
Afghanistan: UTC +4:30
Iran: UTC +3:30 / +4:30
Myanmar: UTC +6:30
Nepal: UTC +5:45
French Polynesia, Marquesas Islands: UTC -9:30
Historic Half-Hour Offsets
North Korea adopted Pyongyang Time (PYT) on August 15, 2015. The time zone had a UTC offset of +8:30. On May 5, 2018, North Korea returned to Korea Standard Time, which is UTC +9:00.
Venezuela changed its time zone by 30 minutes on May 1, 2016. The UTC-offset of Venezuelan Standard Time (VET) went from UTC -4:30 to UTC -4:00.