| | |
| --- | --- |
| Country: | Philippines |
| Long Name: | Republic of the Philippines |
| Abbreviations: | PH, PHL |
| Capital: | Manila |
| Time Zones: | 1 |
| Dial Code: | +63 |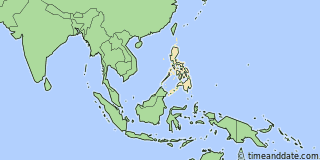 Time Zones Currently Being Used in Philippines
| Offset | Time Zone Abbreviation & Name | Example City | Current Time |
| --- | --- | --- | --- |
How Many Time Zones Are There in the Philippines?
The Philippines has only one time zone, Philippine Time (PHT), which is 8 hours ahead of Coordinated Universal Time (UTC).
No December 31, 1844
The Philippines is one of only few countries worldwide with a 24-hour time zone shift in their history books. In 1844, the country redrew the International Date Line (IDL) to simplify trade relations with its Asian neighbors, essentially moving from one side of the IDL to the other. This meant that the local time in the Philippines jumped from December 30, 1844 to January 1, 1845, effectively removing December 31 from the calendar.
Time Standardized in 1899
In 1899, the Philippines adopted PHT as its standard time. Until then, each location in the country had observed its own solar mean time.
The country continued to use PHT as standard time through the 20th century and until today. The only exception was a period from 1942 to 1945, when Japan occupied the country during World War II and turned clocks 1 hour ahead to Japan Standard Time.

Philippines