Multiple Time Zones
See map below for details
| | |
| --- | --- |
| Country: | Ukraine |
| Abbreviations: | UA, UKR |
| Capital: | Kyiv |
| Time Zones: | 2 |
| Dial Code: | +380 |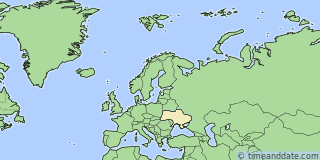 Time in the Occupied Areas in Ukraine
Officially, Ukraine only has one standard time zone: Eastern European Standard Time (EET).
However, in the Russian occupied regions of Donetsk and Luhansk, and Crimea, the de facto (in practice) time zone is Moscow Standard Time (MSK).
Because of the current Russian invasion, there may be other areas that will de facto use MSK. We will update the times of the affected areas as the Russia-Ukraine war unfolds.
---

Ukraine

Airports
Boryspil International Airport, KBP
Odessa International Airport, ODS
Donetsk International Airport, DOK
Lviv International Airport, LWO
Dnipropetrovsk International Airport, DNK
Kharkiv International Airport, HRK