Comet C/2020 F3 NEOWISE Burns Bright in July Northern Skies
Need a summer evening activity? Just step out and lookup for the brightest comet to have graced the northern skies since Comet Hale-Bopp made its appearance in 1997.

Closest approach to Earth is on July 23, 2020. See the Comet in Night Sky Map.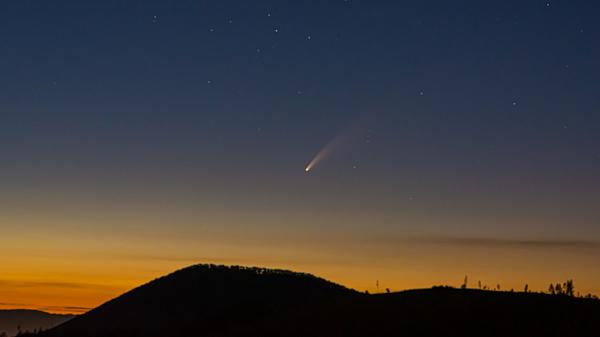 Find Comet C/2020 F3 NEOWISE in your night sky tonight
NEOWISE, formally known as C/2020 F3 NEOWISE, was discovered on March 27, 2020 by NASA's Near-Earth Object Wide-field Infrared Survey Explorer (NEOWISE). The comet reached and survived its closest approach to the Sun (perihelion) on July 3 and has since become brighter with every passing day as it moves closer to the Earth.
Comet NEOWISE will make its closest approach to our planet on July 23, 2020.
Where to See Comet NEOWISE
Currently, the almost three miles (4.83 kilometers) wide comet is visible with naked eyes from very dark Northern Hemisphere locations during a short window of time just after sunset. To see it, find a dark spot with little to no ambient lighting and look up—the darker your viewing location, the better you will be able to see this icy visitor from outer space and its tail. If you are unable to spot the comet amongst the many stars in the night sky, try using binoculars to first locate it and then looking at it with naked eyes. Binoculars are especially helpful in spotting the comet's majestic split tail. Most household binoculars will suffice.
Since the comet's path brings it very close to the horizon at most locations, we recommend that comet gazers find an observation point with an unobstructed view of the horizon.
Use our interactive Night Sky Map to find the position of the comet in your night sky. It also provides you with the best dates and time to see it. Remember to check the weather before you step out.
When to See Comet NEOWISE
NEOWISE started as an early morning comet and is quickly developing into an evening comet. At the moment, it is in the constellation Lynx and will move into Ursa Major by mid-July. Astronomers anticipate that it will remain bright and be visible with naked eyes or with the help of binoculars throughout the month of July. By early August, however, the comet is expected to fade away as it finds its way back to the outskirts of our Solar System.
Sunrise and Sunset times in your location
If you are in the Northern Hemisphere, make sure you take the time to catch a glimpse. This comet will not be back for a long time—6,800 years to be precise! And while you are at it, don't forget to look out for Mars, Jupiter, and Saturn!