Calendar of Cosmic Events - 2020
Check out the dates and times for astronomical events like equinoxes, solstices, meteor showers, eclipses, supermoons, and more.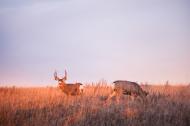 In many Native American cultures, October is the month of hunting and preparing for the upcoming winter season. This is why October's Full Moon is often called Hunter's Moon. It is sometimes known as the Blood Moon or Sanguine Moon, though in recent years, the term Blood Moon is also used to refer to a total lunar eclipse.
Astronomical Events in 2021