Astronomy Calendar — Upcoming Events
Check out the dates and times for astronomical events like equinoxes, solstices, meteor showers, eclipses, supermoons, and more.
Astronomical Events in 2021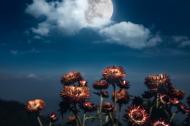 This year's Full Moon in May, also known as the Flower Moon after all the flowers that bloom around this time in the Northern Hemisphere, is a Super Moon. It may look bigger and brighter compared to other Full Moons.
Astronomical Events in 2022
Note: All times are UTC, unless otherwise stated. Convert from UTC to your local time.