2018 Leonid Meteor Shower
In 2018, the Leonids will peak during the night of November 17 and the early morning of November 18.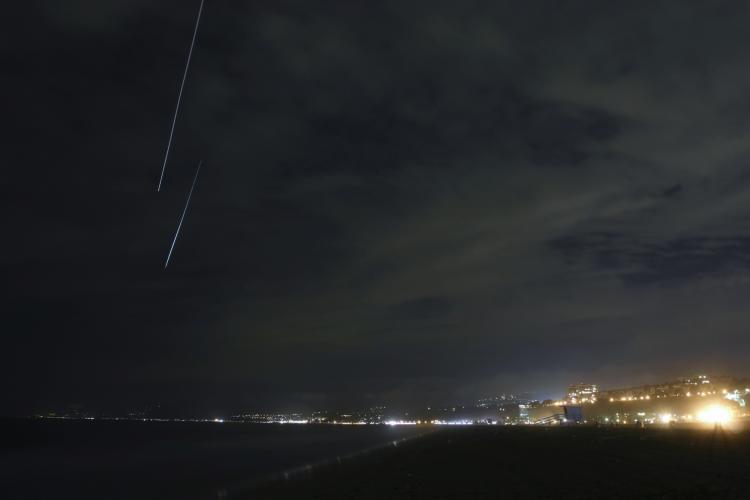 We suggest you try your luck after midnight during the night between November 17 and 18.
The Leonid meteor shower is annually active in the month of November and it usually peaks around November 17 or 18. The shower is called Leonids because its radiant, or the point in the sky where the meteors seem to emerge from, lies in the constellation Leo.
The Leonids occur when the Earth passes through the debris left by the comet Tempel-Tuttle. The comet takes around 33 years to make one orbit around the Sun.
You can see about 20 meteors an hour when the the Leonids meteor shower reaches its peak of activity.
Where to View the Leonids
The Leonids can be seen by viewers from both hemispheres.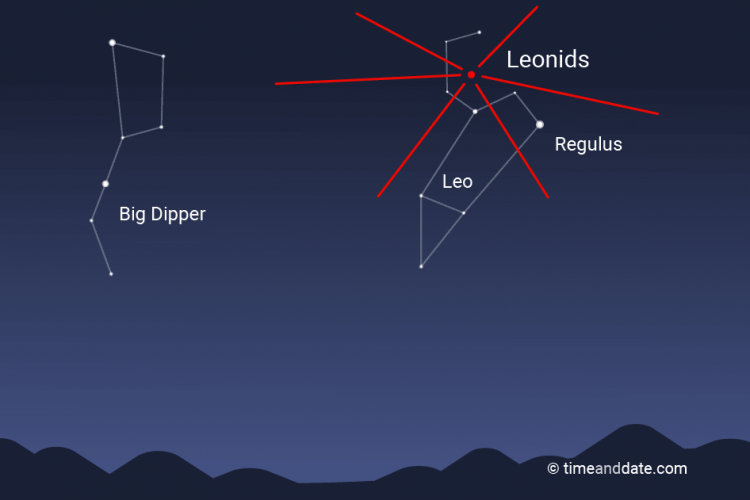 While it is not necessary to look in any particular direction to enjoy a meteor shower, astronomers suggest lying down on the ground and looking at the sky between the East and the point right above you to view the Leonids.
When to View the Leonids
The best time to view the Leonids is after dark.
Location in the Sky
The Leonids meteor shower is not visible tonight. Maximum for the shower is on Saturday, November 17, 2018 at 5:36 pm; the table below is for that night:
Leonids meteor shower for Washington DC (Night between November 17 and November 18)
Time
Azimuth/Direction
Altitude
Sun 12:00 midnight
69°
9.0°
Sun 1:00 am
78°
20.1°
Sun 2:00 am
86°
31.6°
Sun 3:00 am
96°
43.3°
Sun 4:00 am
108°
54.7°
Sun 5:00 am
127°
65.0°
Sun 6:00 am
161°
72.1°
Note: times are for Nov 17, 2018. Set your location
How to Watch Meteor Showers
Check the weather: Meteors, or shooting stars, are easy to spot. All you need is clear skies and a pair of eyes.
Get out of town: Find a place as far away as possible from artificial lights
Prepare to wait: Bring something to sit or lie down on. Star gazing is a waiting game, so get comfortable.

Meteor Showers Library
November: Leonids