2018 Ursid Meteor Shower
In 2018, the Ursids meteor shower is expected to peak on the night of December 22 and early morning hours of December 23. A Full Moon will make it hard for Northern Hemisphere residents to see the shooting stars.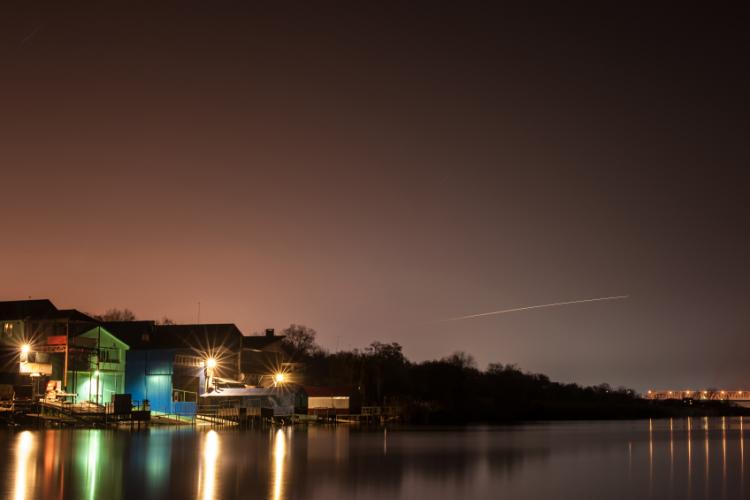 The best time to view the Ursids in 2018 is after dark on December 22 and before the Sun rises on December 23.
Named After Ursa Minor
The Ursids meteor shower is active annually between December 17 and December 24. The shower usually peaks around December 23. At its peak, observers may be able to view as many as 10 meteors in an hour.
The shower is named the Ursids because the meteors seem to radiate from the direction of the constellation Ursa Minor in the sky.
The Ursids are associated with the comet, 8P/Tuttle, also sometimes known as Mechain-Tuttle's Comet.
Where to View the Ursids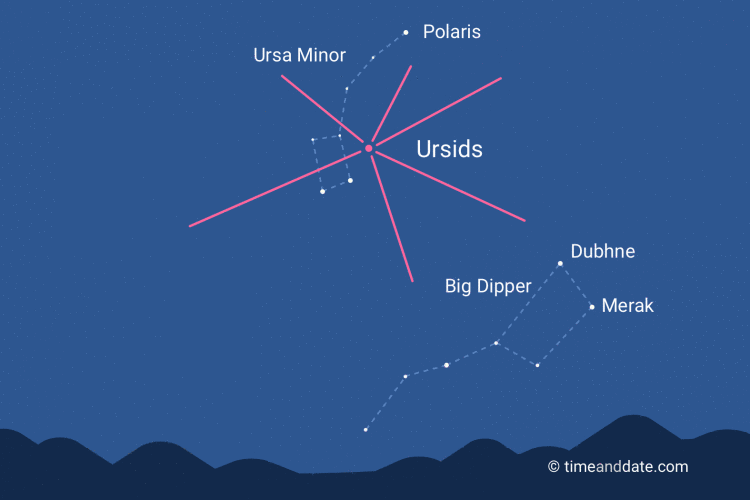 The Ursids can only be seen from Earth's Northern Hemisphere in late December.
When to View the Ursids
The best time to view the Ursids between midnight (0:00) and before dawn.
Location in the Sky
The Ursids meteor shower is not visible tonight. Maximum for the shower is on Saturday, December 22, 2018 at 3:55 pm; the table below is for that night:
Ursids meteor shower for Washington DC (Night between December 22 and December 23)
Time
Azimuth/Direction
Altitude
Sat 6:00 pm
350°
27.4°
Sat 7:00 pm
354°
25.8°
Sat 8:00 pm
358°
25.0°
Sat 9:00 pm
2°
25.0°
Sat 10:00 pm
6°
25.8°
Sat 11:00 pm
10°
27.4°
Sun 12:00 midnight
13°
29.6°
Sun 1:00 am
16°
32.5°
Sun 2:00 am
17°
35.8°
Sun 3:00 am
18°
39.4°
Sun 4:00 am
18°
43.1°
Sun 5:00 am
16°
46.5°
Sun 6:00 am
13°
49.5°
Note: times are for Dec 22, 2018. Set your location
How to View the Ursids
There isn't a lot of skill involved in watching a meteor shower. Here are some tips on how to maximize your time looking for the Ursids:
Get out of the city to a place where city and artificial lights do not impede your viewing
If you are out viewing the shower during its peak, you will not need any special equipment. You should be able to see the shower with your naked eyes.
Carry a blanket or a comfortable chair with you - viewing meteors, just like any other kind of star gazing is a waiting game, and you need to be comfortable. Plus, you may not want to leave until you can't see the majestic celestial fireworks anymore.
Check the weather and moonrise and moonset timings for your location before you leave, and plan your viewing around it.

Meteor Showers Library
December: Ursids