May

27

Fun Holiday – Sun Screen Day
Get ready for the summer (if you live in the Northern Hemisphere) by learning more about sunscreen and its advantages on May 27, Sunscreen Day.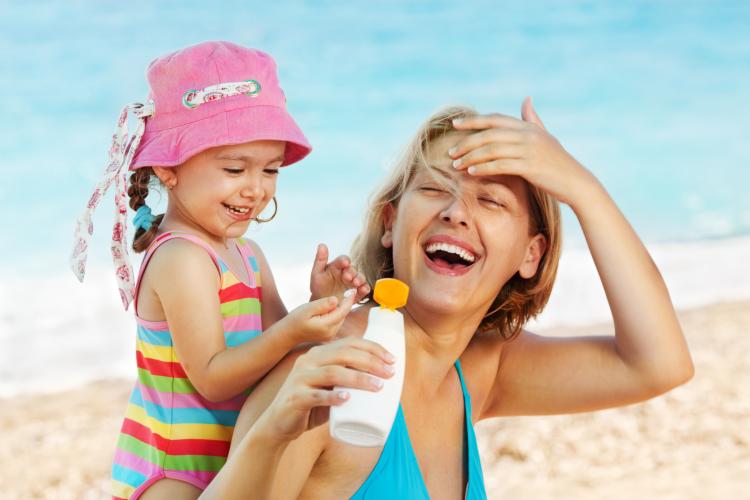 Sunscreen, also known as suntan lotion, sun screen, or sun block is usually a cream or spray that is applied to bare skin in order to protect it from the Sun's harmful ultraviolet (UV) rays, and from sun burn.
Medical professionals recommend that people apply sunscreen to skin exposed to sunlight to prevent skin cancer.
There are many types of sunscreens available in the market these days - some only prevent sunburns while others prevent both sunburns and the Sun's harmful UV rays from entering the skin. Use this unofficial, but important, holiday to understand which type of sunscreen to use when going out to enjoy the summer sun.
How to Celebrate?
Stock up on sunscreen for the summer.
Learn more about the different kinds of sunscreens and how they protect you.
Listen to the Sunscreen song. The song is a spoken word song by Baz Luhrmann that features an essay titled Advice, like youth, probably just wasted on the young, written by columnist Mary Schmich and published in the Chicago Tribune on June 1, 1997.
Did You Know…
...that even though long-term exposure to UV rays is harmful to our bodies, the human body needs UV rays to form Vitamin D?
Sun Screen Day Observances
Fun Holiday: Sun Screen Day Observances
Year
Weekday
Date
Name
2023
Sat
May 27
Sun Screen Day
2024
Mon
May 27
Sun Screen Day
2025
Tue
May 27
Sun Screen Day
2026
Wed
May 27
Sun Screen Day
2027
Thu
May 27
Sun Screen Day
2028
Sat
May 27
Sun Screen Day
2029
Sun
May 27
Sun Screen Day
2030
Mon
May 27
Sun Screen Day
2031
Tue
May 27
Sun Screen Day
2032
Thu
May 27
Sun Screen Day