Clocks Go Back 1 Hour in Europe Sunday, Oct 29, 2017
On Sunday, October 29, 2017, at 01:00 UTC, clocks will be set back 1 hour in most of Europe as Daylight Saving Time (DST) ends.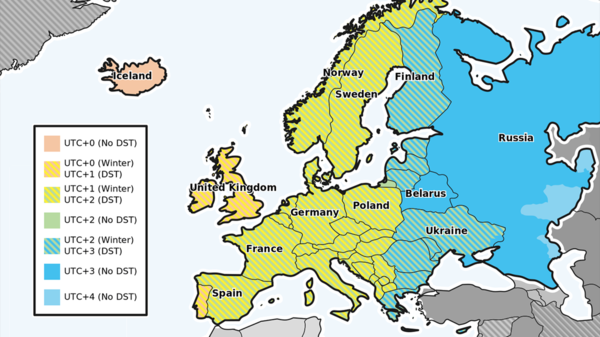 Lighter Mornings
Sunrise and sunset will be about 1 hour earlier on Sunday, October 29, 2017 than the day before, so there will be more light in the morning as Europe returns to standard time.
USA & Canada end DST Nov 5, 2017
Changes at the Same Time
Most European countries synchronize their DST, which starts on the last Sunday of March and ends on the last Sunday of October. Participating countries are:
No DST in Russia
Russia does not use DST. Other European countries that don't use DST include Iceland, Belarus, Georgia, and Armenia.
Set Clocks Back or Ahead?
To remember which way to set your watch, keep in mind one of these sayings: "Spring forward, fall back" or "Spring ahead, fall behind." The clocks spring ahead (= losing 1 hour) in the spring when DST starts and fall behind 1 hour (= gaining 1 hour) when DST ends in the fall.
DST End: European Local Times
Time Zone during DST
Local Time of DST End
Time Zone after DST (standard time)

British Summer Time (BST) used in UK and Ireland during summer

UTC offset: +1 hour

DST ends at 02:00 (2 am) local time.
Clocks are set back 1 hour to 01:00 (1 am).

UTC offset: None

Western European Summer Time (WEST) observed in Portugal, the Faroe Islands, and the Canary Islands.

UTC offset: +1 hour

DST ends at 02:00 (2 am) local time. Clocks are set back 1 hour to 01:00 (1 am).

UTC offset: None

Central European Summer Time (CEST), used in countries including France, Germany, Austria, Italy, Switzerland, Norway, Poland, Hungary, and Spain.

UTC offset: +2 hours

DST ends at 03:00 (3 am) local time, when clocks are set back 1 hour to 02:00 (2 am).

UTC offset: +1 hour

Eastern European Summer Time (EEST), observed in countries including Bulgaria, Estonia, Finland, Greece, Latvia, Romania, and most areas in Ukraine.

UTC offset: +3 hours

DST ends at 04:00 (4 am) local time, when clocks are set back 1 hour to 03:00 (3 am).

UTC offset: +2 hours

Most of the western parts of Russia and some parts of Ukraine are in the Moscow time zone, Moscow Standard Time (MSK).

UTC offset: UTC +3 hours