Next change:
Oct 30, 2022, 3:00 am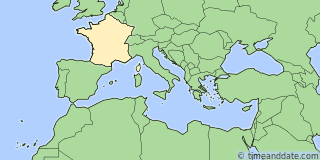 When Does DST Start and End in France?
In continental France, which includes the capital Paris, the Daylight Saving Time (DST) period starts on the last Sunday of March and ends on the last Sunday of October, together with most other European countries.
Although the collectivity of Saint Pierre and Miquelon also uses DST (see below), the times displayed above apply only to continental France.
Daylight Saving Time in Dependencies of France
Daylight Saving Time History in France
France first observed Daylight Saving Time in 1916.
Previous time with no Daylight Saving Time was 1975.