Daylight Saving Time and Time Zones in Europe
Europe is divided into four main time zones that span from UTC+0 hours in western European countries to UTC+3 hours in Belarus and parts of Russia.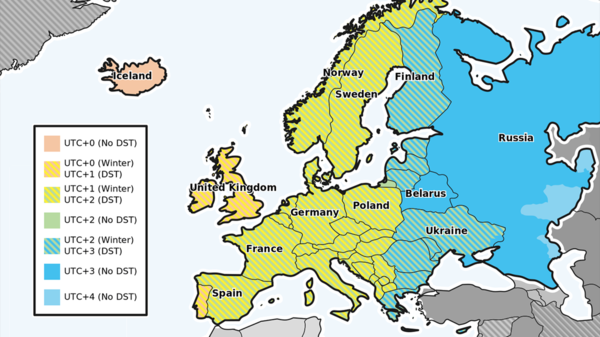 DST might become history in the EU
DST in Europe
The Daylight Saving Time (DST) period in Europe runs from 01:00 UTC (Coordinated Universal Time) on the last Sunday of March to 01:00 UTC on the last Sunday of October every year.
It includes all countries in the European Economic Area (EEA), except Iceland. Switzerland follows the same schedule although the country is not part of the EEA. In the map, all colored areas with diagonal lines follow the schedule.
DST Starts and Ends at Different Local Times
While the switch occurs at the same moment in all participating countries, local times vary because Europe has several time zones. For example, DST starts at 02:00 (2 am) local standard time in countries like France and Germany, while Finland and Greece advance their clocks at 03:00 (3 am) local time.
To find out local times for all European countries, please see the table below or enter a country into our DST search.
Upcoming DST changes worldwide
How Many Time Zones Are There in Europe?
From Iceland in the west to western parts of Russia in the east, the European continent spans four standard time zones. There are four corresponding DST time zones.
Iceland, Ireland, and the United Kingdom observe GMT as their standard time. Iceland does not observe DST so it remains on GMT all year round. While Ireland switches from GMT to Irish Standard Time (IST), the UK's DST time zone is called British Summer Time (BST). Note: The UK is not on GMT during the DST period.