| | |
| --- | --- |
| Country: | Netherlands |
| Long Name: | Kingdom of the Netherlands |
| Abbreviations: | NL, NLD |
| Capital: | Amsterdam |
| Administrative Capital: | The Hague |
| Judicial Capital: | The Hague |
| Legislative Capital: | The Hague |
| Time Zones: | 1 (Main Country) |
| Total Time Zones: | 2 (with dependencies) |
| Dial Code: | +31 |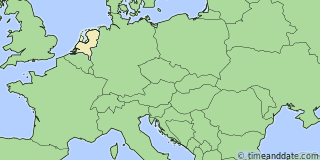 Time Zone Currently Being Used in Netherlands
Offset
Time Zone Abbreviation & Name
Example City
Current Time
UTC +2
CEST
Central European Summer Time
Amsterdam

Wed

,

1:41:28 pm
How Many Time Zones Are There in the Netherlands?
The Netherlands has 2 time zones. The country's European mainland, including the capital Amsterdam, observes Central European Time (CET) as standard time. When Daylight Saving Time (DST) is in force, Central European Summer Time (CEST) is observed.
The country's dependencies, island territories in the Caribbean Sea, all lie in the same time zone: Atlantic Standard Time (AST), which is 4 hours behind Coordinated Universal Time (UTC). Please see below for a list of the Netherlands' dependencies.
---
Time Zone Not Currently Being Observed in Netherlands
Offset
Time Zone Abbreviation & Name
Commences
UTC +1
CET
Central European Time
Oct 31, 2021
The above time zone is used during other parts of the year. It will become active again after the next clock change as Daylight Saving Time begins or ends.
---
Time Zones Being Used in Dependencies of Netherlands
Offset
Time Zone Abbreviation & Name
Dependency
Type
Current Time
UTC -4
AST
Atlantic Standard Time
Aruba
Constituent country

Wed

,

7:41:28 am

AST
Atlantic Standard Time
Caribbean Netherlands
Overseas territory

Wed

,

7:41:28 am
Time Zone History of the Netherlands
The Netherlands standardized its civil time in 1909. Until then, each location in the country had observed its own solar time. In 1909, all clocks in the Netherlands were synchronized with solar time in Amsterdam. Amsterdam Time or Dutch Time, as it was commonly called, was 19 minutes and 32 seconds ahead of Greenwich Mean Time (GMT), which was then the world's time standard. In 1937, the country's standard time was adjusted by 28 seconds to GMT+0:20 for simplicity's sake.
In 1940, German forces occupying the Netherlands during World War II advanced the country's local time by 1 hour and 40 minutes, effectively changing its time zone to Central European Summer Time (CEST), Germany's Daylight Saving Time (DST). The Netherlands remained on year-round DST until 1942. From 1942 to 1945, Dutch clocks followed Germany's schedule of DST switches.
In 1945, after the end of World War II, the country abandoned DST for over 3 decades. However, the time zone imposed by the German occupiers remains the country's standard time to the present day.

Netherlands
Time Zone News
More Information
Time Zone Map