DST Start in Europe 2023
Most European countries set their clocks forward one hour on Sunday, March 26, 2023, when Daylight Saving Time (DST) starts.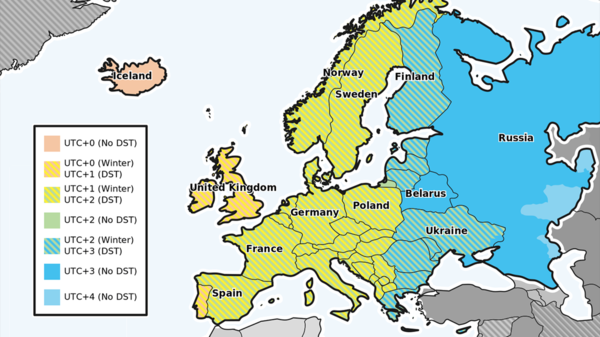 Most European countries will spring forward one hour at 01:00 UTC on March 26, 2023. The local time for the change is different in each time zone.
Local time for Europe DST start 2023
The clocks will be set back one hour to standard time on Sunday, October 29, 2023.
The US and Canada started DST two weeks earlier than Europe, on March 12, 2023.
Removing DST in the EU Stalls
In 2019, the European Parliament voted to remove Daylight Saving Time in the European Union. The vote was passed and progressed to the European Council, but this is where it faltered.
The European Council has yet to start negotiations. In recent years, issues such as Brexit, the COVID-19 pandemic, and the war in Ukraine have further complicated matters. It seems unlikely that any changes to DST in the EU will take place anytime soon.
Europe's time zones and DST schedule
Daylight Saving in Europe
Time changes in Europe are synchronized. According to the current EU law, DST starts on the last Sunday of March and ends on the last Sunday of October. Participating countries are:
Most of Ukraine set their clocks forward for DST, except for areas occupied by Russia. European countries that do not have DST include Russia, Iceland, and Belarus.
Local Times in Europe for DST Start
Time Zone During DST
DST Starts
Standard Time Zone (no DST)

British Summer Time (BST), used in the UK during summer.

UTC offset: +1 hour

DST starts at 01:00 (1 am) local time.
Clocks are set ahead 1 hour to 02:00 (2 am).

UTC offset: None

Irish Standard Time (IST), used in Ireland during the summer.

UTC offset: +1 hour

DST starts at 01:00 (1 am) local time.
Clocks are set ahead 1 hour to 02:00 (2 am).

UTC offset: None

Western European Summer Time (WEST), used in the Canary Islands, the Faroe Islands, and Portugal.

UTC offset: +1 hour

DST starts at 01:00 (1 am) local time.
Clocks are set ahead 1 hour to 02:00 (2 am).

UTC offset: None

Central European Summer Time (CEST), used in countries including Austria, France, Germany, Italy, Hungary, Norway, Poland, Spain, and Switzerland.

UTC offset: +2 hours

DST starts at 02:00 (2 am) local time.
Clocks are set ahead 1 hour to 03:00 (3 am).

UTC offset: +1 hour

Eastern European Summer Time (EEST), used in countries including Bulgaria, Estonia, Finland, Greece, Latvia, Lithuania, and Romania.

UTC offset: +3 hours

DST starts at 03:00 (3 am) local time.
Clocks are set ahead 1 hour to 04:00 (4 am).

UTC offset: +2 hours