DST Starts in Australia on Sunday, Oct 4, 2015
On Sunday, October 4, 2015, clocks will be set forward one hour from 02:00 (2 am) to 03:00 (3 am) local time as Daylight Saving Time (DST) starts in most of Australia.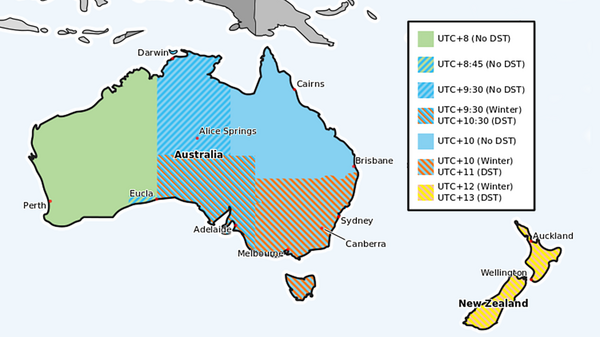 Multiple Time Zones
Australia has multiple time zones. Some of them are half-hour and quarter hour time zones. Not all states and territories use DST.
Areas in Oz With DST
Areas Without DST
One Less Hour of Sleep
Aussies will lose one hour of night time going into DST this spring, but it will be returned to them in the fall, when DST ends on Sunday, April 3, 2016.
New Zealand starts DST one week before Australia, but the two neighboring countries end DST on the same day.
Norfolk Island Changes Time Zone
At the same time when most Australians set their clocks forward one hour, Norfolk Islanders will set their clocks back 30 minutes to Norfolk Time (NFT).
This will give Kingston the same time as Canberra, Melbourne, and Hobart during the DST period.