Last change: 2019
Feb 17, 2019, 12:00 midnight
| | |
| --- | --- |
| Country: | Brazil |
| Long Name: | Federative Republic of Brazil |
| Abbreviations: | BR, BRA |
| Capital: | Brasilia |
| Time Zones: | 4 |
| Dial Code: | +55 |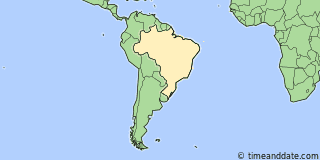 Does Brazil Have DST?
There is no Daylight Saving Time (DST) in Brazil. The country scrapped the practice in 2019.
Oct 3, 1931 - Daylight Saving Time Started
When local standard time was about to reach
Saturday, October 3, 1931, 11:00:00 am clocks were turned forward 1 hour to
Saturday, October 3, 1931, 12:00:00 noon local daylight time instead.
Sunrise and sunset were about 1 hour later on Oct 3, 1931 than the day before. There was more light in the evening.
Also called Spring Forward, Summer Time, and Daylight Savings Time.
More info:
Sunday, February 17, 2013: Brazil ends Daylight Saving Time

Daylight Saving Time History in Brazil
Brazil last observed Daylight Saving Time in 2019.
Brazil has observed DST for 49 years between 1931 and 2019.