Last change: 2022
Oct 30, 2022, 2:00 am
In most of Mexico
| | |
| --- | --- |
| Country: | Mexico |
| Long Name: | United Mexican States |
| Abbreviations: | MX, MEX |
| Capital: | Mexico City |
| Time Zones: | 4 |
| Dial Code: | +52 |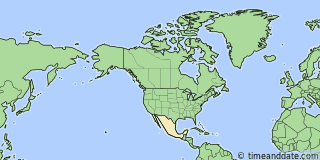 Daylight Saving Time History in Mexico
Mexico first observed Daylight Saving Time in 1931.
Mexico has observed DST for 66 years between 1931 and 2023 (DST in at least one location).
Previous time with no Daylight Saving Time was 1975.
Baja California Pioneered DST
The state of Baja California introduced seasonal clock changes in 1931, remaining the only area in Mexico with a DST schedule for 65 years.
In the rest of the country, DST was introduced in 1996 and removed in 2022.