Last change: 2022
Oct 30, 2022, 2:00 am
In most of Mexico
| | |
| --- | --- |
| Country: | Mexico |
| Long Name: | United Mexican States |
| Abbreviations: | MX, MEX |
| Capital: | Mexico City |
| Time Zones: | 4 |
| Dial Code: | +52 |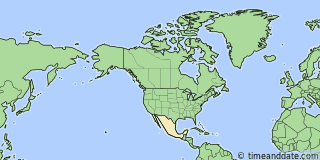 The states of Sonora (yellow area on the left) and Quintana Roo (yellow area on the right) do not observe DST.
Daylight Saving Time History in Mexico
Baja California Pioneered DST
The state of Baja California introduced seasonal clock changes in 1931, remaining the only area in Mexico with a DST schedule for 65 years. In the rest of the country, DST was introduced in 1996.