Next change:
Mar 10, 2024, 2:00 am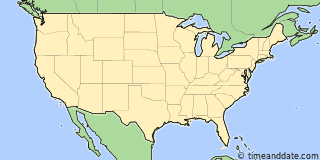 DST in Other Locations in USA in 2014

(1 Location)

Palmyra Atoll
No DST
Which States Don't Use DST?
Most of Arizona and Hawaii don't use DST. Indiana introduced DST in 2006.
Daylight Saving Time in Dependencies of USA
US dependencies do not use Daylight Saving Time (DST).
Daylight Saving Time History in United States
United States first observed Daylight Saving Time in 1918.
DST in the USA Today
Daylight Saving Time (DST) in the USA starts on the second Sunday in March and ends on the first Sunday in November. The current schedule was introduced in 2007 and follows the Energy Policy Act of 2005.
According to section 110 of the act, the US Department of Transportation (DOT) governs the use of DST. The law does not affect the rights of the states and territories that choose not to observe DST.
Confusing DST Rules
Historically, there were no uniform rules for DST from 1945 to 1966. This caused widespread confusion, especially in transport and broadcasting. The Uniform Time Act of 1966 aligned the switch dates across the USA for the first time.
Following the 1973 oil embargo, the US Congress extended the DST period to 10 months in 1974 and 8 months in 1975, in an effort to save energy.
After the energy crisis was over in 1976, the DST schedule in the US was revised several times. From 1987 to 2006, the country observed DST for about 7 months each year.