March: Worm Moon
In March, the Full Moon is the Worm Moon; if it occurs on or after March 21, it is also the Paschal Moon. It is also called Lenten Moon, Crow Moon, Crust Moon, Chaste Moon, Sugar Moon, and Sap Moon.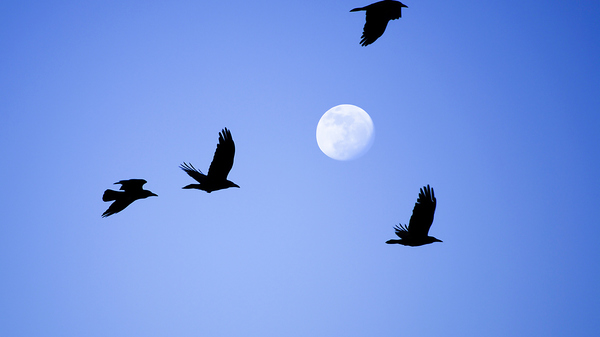 Worm Moon 2023
Mar 7, 2023 at 7:40 am
Worm Moon 2024
Mar 25, 2024 at 3:00 am
Times for the Worm Moon vary by time zone. Times and dates are based on the local time in Washington DC. Change location
What Is a Worm Moon?
The Worm Moon gets its name from the earthworms that come out when the soil warms up. The worms provide food for birds and other animals.
It happens around the changing of the seasons, from astronomical winter to spring in the Northern Hemisphere.
Is the Moon upside-down in the other hemisphere?
Early Spring and New Beginnings
The Anglo Saxons called the March Full Moon the Lenten Moon. Lenten is derived from Germanic languages and means spring. The Lenten Moon has also given its name to the Christian Lent period before Easter.
The March equinox has had great cultural significance through the times, and many cultures still celebrate new beginnings, rebirth, purity, cleaning, and chaste or lean living around this time.
Awakening of Nature
Native American tribes named this Moon after early spring and the awakening of nature: Crow Moon for the crows coming back, Snow Crust Moon after the crust which forms on top of the snow as it melts and re-freezes, and Sap or Sugar Moon for when the maple sap runs.
The Celts called it the Wind Moon and Plough Moon from preparing the fields for the growing season. In Old English, it was known as the Chaste Moon, referring to the purity of the spring season.
How can a Full Moon be in the daytime?
It Can Be the Paschal Moon
The Paschal Moon is the first Full Moon on or after March 21 and is used to determine the date of Easter. In some years, the Paschal Moon is the Worm Moon; in others, it's the Pink Moon (Full Moon in April). The dates for the Paschal Moon range from March 21 to April 18.
12 Full Moon Names
The Full Moon has been integral to tracking the change of months and seasons since ancient times.
Today, we use many of these ancient month names as Full Moon names, and many of them come from the Colonial Americans adopting Native American names into their calendars.
Although the most commonly used Full Moon names are English interpretations of Native American names, some are also Celtic, Anglo-Saxon, medieval English, and Neo-Pagan.