Next change:
Apr 2, 2023, 3:00 am
| | |
| --- | --- |
| Country: | Antarctica |
| Abbreviations: | AQ, ATA |
| Time Zones: | 24+ |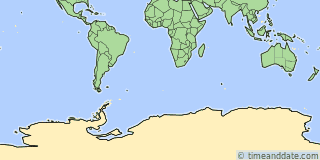 Is there Daylight Saving Time in Antarctica?
Although most research stations in Antarctica lie within the Antarctic Circle where Daylight Saving Time (DST) does not make sense as a measure to conserve energy, some of them change their clocks every year to stay in sync with the countries that operate or supply them. The date of the change may also vary, depending on supply boats or flights. For this reason, Daylight Saving Time changes in Antarctica are often labeled as preliminary.
Vostok Station, for example, doesn't use DST as it is in the Antarctic Circle and experiences 24 hours of sunlight during the summer and 24 hours of darkness in the winter.
McMurdo Station, however, follows New Zealand Standard Time (NZST) during standard time and New Zealand Daylight Time (NZDT) during the DST period in New Zealand.
The Norwegian research station Troll changes between Greenwich Mean Time (GMT) during standard time, and Central European Summer Time (CEST) during the DST-period.
Casey Station changes between UTC+8 in the winter season and UTC+11 in the summer season. The Australian station's time changes line up—for the most part—with the switch to DST in Australia. So, when Tasmania sets the clocks forward one hour for DST to UTC+11, Casey set their clocks forward three hours to UTC+11.
Daylight Saving Time History in Antarctica
Antarctica first observed Daylight Saving Time in 1930.
Previous time with no Daylight Saving Time was 1973.