DST Starts in Europe Sunday, March 29, 2020
Most European countries set the clocks forward one hour on Sunday, March 29, 2020, when Daylight Saving Time (DST) starts.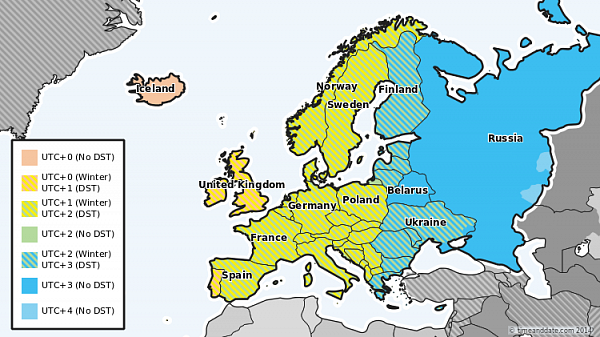 Most countries in Europe will spring forward one hour at 01:00 UTC on March 29, 2020. Local time for the change is different in each time zone. See the table below for more details.
The clocks will be set back one hour to standard time on Sunday, October 25, 2020.
USA & Canada start DST March 8, 2020
Brighter Afternoons
In local time, sunrise and sunset will be about one hour later than the day before, resulting in more daylight in the afternoon.
The EU Wants to Remove DST
On March 26, 2019, the European Parliament voted in favor of backing the EU Committee draft directive to stop the one-hour clock change in the European Union.
Under the directive, each Member State will have until April 2020 to decide whether to remain permanently on "summer time" or to change their clocks back one final time to permanent standard time, also known as "winter time." Effectively, this means that 2021 may be the last time the EU Member States and affiliated countries adjust their clocks for DST.
Brexit Could Mess up the UK's Time Zones
Because the UK has now left the EU, the country will have to decide whether it wants to keep DST. This could cause the island of Ireland to end up with two time zones, Northern Ireland following the time the UK decides to use and the Republic of Ireland, an EU Member State, observing another time zone.
A report released on February 11, 2020 by the House of Lords EU Committee states that a time zone border between the countries would have "enormous practical implications."
Changes at the Same Time
European countries synchronize their DST, which starts on the last Sunday of March and ends on the last Sunday of October. Participating countries are:
European Countries Without DST
Armenia, Belarus, Georgia, Iceland, Russia, and Turkey don't use DST but remain on standard time all year.
In 2016, Turkey decided to end DST permanently. The Turkish occupied territory of Northern Cyprus still follows the rest of Cyprus and will set the clocks forward one hour on March 29, 2020.
Local Times in Europe for DST Start
Time Zone During DST
DST Starts
Standard Time Zone (no DST)

British Summer Time (BST), used in the UK during summer.

UTC offset: +1 hour

DST starts at 01:00 (1 am) local time.
Clocks are set ahead 1 hour to 02:00 (2 am).

UTC offset: None

Irish Standard Time (IST), used in Ireland during the summer.

UTC offset: +1 hour

DST starts at 01:00 (1 am) local time.
Clocks are set ahead 1 hour to 02:00 (2 am).

UTC offset: None

Western European Summer Time (WEST), used in the Canary Islands, the Faroe Islands, and Portugal.

UTC offset: +1 hour

DST starts at 01:00 (1 am) local time. Clocks are set ahead 1 hour to 02:00 (2 am).

UTC offset: None

Central European Summer Time (CEST), used in countries including Austria, France, Germany, Italy, Hungary, Norway, Poland, Spain, and Switzerland.

UTC offset: +2 hours

DST starts at 02:00 (2 am) local time, when clocks are set ahead 1 hour to 03:00 (3 am).

UTC offset: +1 hour

Eastern European Summer Time (EEST), used in countries including Bulgaria, Estonia, Finland, Greece, Latvia, Lithuania, and Romania.

UTC offset: +3 hours

DST starts at 03:00 (3 am) local time, when clocks are set ahead 1 hour to 04:00 (4 am).

UTC offset: +2 hours