End of DST in Europe 2020
On Sunday, October 25, 2020, clocks will be set back 1 hour in most of Europe as Daylight Saving Time (DST) ends.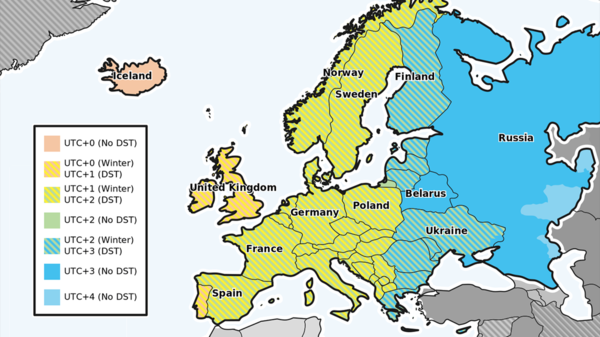 When Do Clocks Change in Europe?
Clocks in most European countries are turned back by 1 hour on October 25, 2020 at 01:00 UTC. Since Europe spans several time zones, the switch occurs at different local times (see table below).
DST in Europe starts again on Sunday, March 28, 2021.
As always, the US will end DST a week after Europe, on November 1, 2020.
EU Wants to Remove DST Permanently
In 2019, the European Parliament voted in favor of removing Daylight Saving Time (DST) permanently. It will be up to each Member State to decide whether to remain permanently on "summer time" (DST) or to change their clocks back one final time to permanent standard time, also known as "winter time."
DST Removal Not Likely in 2021
The likelihood of the EU abolishing DST in 2021 is very slim. Europe, like the rest of the world, has been busy handling the health and economic effects of Covid-19.
Negotiations have not yet started in the European Council, making it very unlikely for the new rules—even if agreed rapidly—to apply in 2021.
The draft law proposes that 2021 will be the last time EU Member States and affiliated countries follow the seasonal clock change. For this reason, all subsequent clock changes in European nations are marked as preliminary on timeanddate.com.
Time Change in Europe
Time changes in Europe are synchronized. According to the current EU rules, DST starts on the last Sunday of March and ends on the last Sunday of October. Participating countries are:
Upcoming DST changes worldwide
European countries that do not have DST include: Russia, Iceland, and Belarus.
DST End: European Local Times
Time Zone during DST
Local Time of DST End
Time Zone after DST (standard time)

British Summer Time (BST) used in the UK during summer.

UTC offset: +1 hour

DST ends at 02:00 (2 am) local time.
Clocks are set back 1 hour to 01:00 (1 am).

UTC offset: None

Irish Standard Time (IST) used in Ireland during summer.

UTC offset: +1 hour

DST ends at 02:00 (2 am) local time.
Clocks are set back 1 hour to 01:00 (1 am).

UTC offset: None

Western European Summer Time (WEST) observed in Portugal, the Faroe Islands, and the Canary Islands.

UTC offset: +1 hour

DST ends at 02:00 (2 am) local time.
Clocks are set back 1 hour to 01:00 (1 am).

UTC offset: None

Central European Summer Time (CEST), used in countries including France, Germany, Austria, Italy, Switzerland, Norway, Poland, Hungary, and Spain.

UTC offset: +2 hours

DST ends at 03:00 (3 am) local time.
Clocks are set back 1 hour to 02:00 (2 am).

UTC offset: +1 hour

Eastern European Summer Time (EEST), observed in countries including Bulgaria, Estonia, Finland, Greece, Latvia, Romania, and most areas in Ukraine.

UTC offset: +3 hours

DST ends at 04:00 (4 am) local time.
Clocks are set back 1 hour to 03:00 (3 am).

UTC offset: +2 hours

Most of the western parts of Russia and some parts of Ukraine are in the Moscow time zone, Moscow Standard Time (MSK).

UTC offset: UTC +3 hours