DST Starts in Europe Sunday, March 27, 2016
On Sunday, March 27, 2016, clocks will be set forward 1 hour when Daylight Saving Time (DST) starts in most of Europe.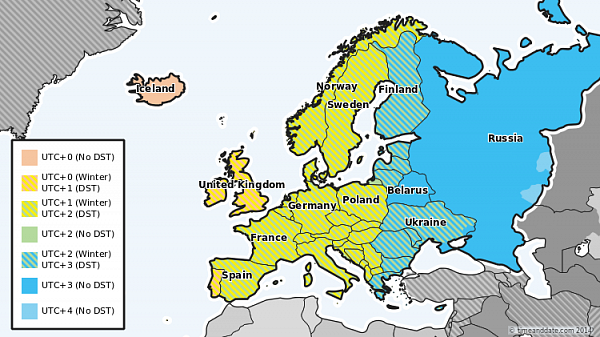 Most countries in Europe will spring forward 1 hour at 01:00 UTC.
USA Starts DST Sunday, March 13, 2016
More Light in the Evening
In relation to local time, sunrise and sunset will be about one hour later on Sunday, March 27, 2016, than the day before, so there will be more light in the evening.
Europe's Time Zones and DST Schedule
Starting Same Time All Over Europe
The following European countries synchronize the start of DST at 01:00 (1 am) UTC on the last Sunday of March. They return to standard time again on the last Sunday of October.
Local times for the change depends on the time zone, for more details see table below.
100 Years of DST
April 30, 2016, marks the 100th anniversary of the introduction of DST in Europe. Germany was the first country in Europe to set the clocks forward one hour on April 30, 1916. Other European countries including the United Kingdom and Ireland in May, and France in June followed Germany's lead.
European Countries Without DST
Belarus, Iceland, Georgia, Russia, and Armenia don't use DST and remain on standard time all year.
No DST in Russia
On October 26, 2014, Russia switched to standard time (winter time) permanently.
The "Luhansk People's Republic" and the "Donetsk People's Republic", both self-proclaimed separatist states in eastern Ukraine, also follow Moscow Standard Time (MSK) year-round.
New Time Zones in Russia
On March 27, 2016, as Europe starts DST, Russia will change the time zone in 6 areas:
Where and When do the Clocks Change Next?
Local Times in Europe for DST Start
Time Zone During DST
DST Starts
Standard Time Zone (no DST)

British Summer Time (BST) used in the UK during summer

UTC offset: +1 hour

DST starts at 01:00 (1 am) local time.
Clocks are set ahead one 1 hour to 02:00 (2 am).

UTC offset: None

Western European Summer Time (WEST) observed in Portugal, the Faroe Islands, and the Canary Islands.

UTC offset: +1 hour

DST starts at 01:00 (1 am) local time. Clocks are set ahead one 1 hour to 02:00 (2 am).

UTC offset: None

Central European Summer Time (CEST), used in countries including France, Germany, Austria, Italy, Switzerland, Norway, Poland, Hungary, and Spain.

UTC offset: +2 hours

DST starts at 02:00 (2 am) local time, when clocks are set ahead 1 hour to 03:00 (3 am).

UTC offset: +1 hour

Eastern European Summer Time (EEST), used in countries including Bulgaria, Estonia, Finland, Greece, Latvia, Romania, Turkey, and most areas in Ukraine.

UTC offset: +3 hours

DST starts at 03:00 (3 am) local time, when clocks are set ahead 1 hour to 04:00 (4 am).

UTC offset: +2 hours

Most of the western parts of Russia and some parts of Ukraine are in the Moscow time zone, Moscow Standard Time (MSK).

UTC offset: UTC +3 hours

UTC offset: UTC +3 hours