How Many Time Zones Are There?
If each time zone were one hour apart, there would be 24 in the world. But several time zones have only 30 and 45 minutes offsets, making the total number worldwide much higher.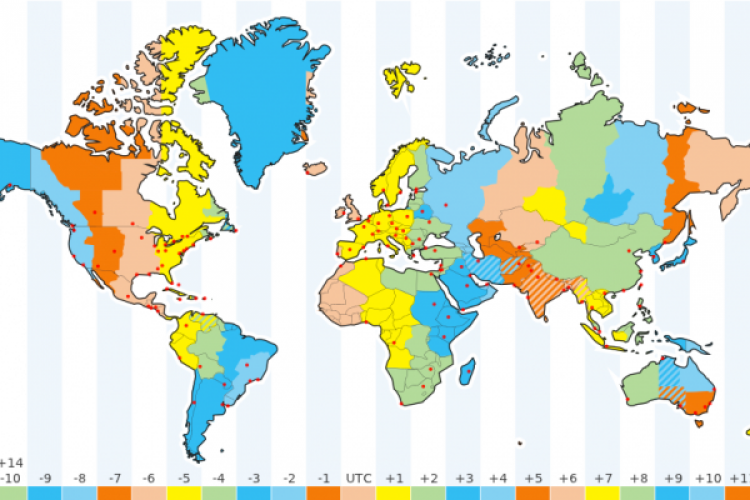 More Than 24 Time Zones
If each time zone were one hour apart, there would be 24 in the world.
However, the International Date Line creates 3 more. In addition, several time zones are only 30 or 45 minutes apart, increasing the total number of standard time zones even further.
Not the Same as Local Time
The term time zone is often used instead of local time. For instance, during Daylight Saving Time (DST), it is common to say "California and Arizona are now in same time zone". However, the correct thing to say would be: "California and Arizona now have the same local time".
The reason is that California's local time during DST is UTC-7, but the standard time in California is minus one more hour: UTC-8. However, Arizona's local time is always UTC-7, because there's no DST in Arizona, and they remain on standard time all year.
So, how many local times are there today? Find out!
Borders Vary
Theoretically, each full-hour time zone is 15 degrees wide, corresponding to a one-hour difference in mean solar time.

The actual borders on a time zone map have been drawn to match up with both internal and international borders, and rarely match up with the 15-degree time zone borders.

The time changes one hour forward and backward respectively for every 15 degrees east or west of the Greenwich Meridian. The Greenwich Meridian is a north-south line selected as the zero-reference line for astronomical observations.

The Meridian in Greenwich, London, UK represents the world's prime meridian – longitude zero degrees. Every place on Earth is measured in terms of its distance east or west from this line.

One would need to divide the longitude, in degrees, by 15 to find the appropriate time zone, in hours. For example:
At 150 degrees west (or 150° W) longitude, the time should be 150 degrees divided by 15 degrees = 10 hours behind Coordinated Universal Time (UTC), or UTC-10.
At 75 degrees east (or 75° E) longitude, the time would be 75 degrees divided by 15 degrees = 5 hours ahead of UTC/GMT, or UTC+5.
In addition, some geographically large (wide) countries, like India and China, use only one time zone, while it would have been natural to expect several, like in the USA or Australia.
Below are all the different local times currently in use worldwide:
Currently 38 Different Local Times in Use
25 Common One-Hour Time Zone Offsets
2 Additional One-Hour Time Zone Offsets
8 Half-Hour Time Zone Offsets
3 Quarter-Hour Time Zone Offsets